1. HOUSTON TEXANS
JADAVEON CLOWNEY
DE South Carolina
The 6'6 270 pound South Carolina product boasts absolutely freakish upside, makin
g him the most talented defensive line prospect since Julius Peppers. His speed (4.57 40 yd), quick feet, ridiculous length used to disrupt throwing lanes (83' wingspan), and athletic ability project very well to the next level as an elite level edge rusher. Some question his overall work ethic and football character, but similar whispers surrounded the aforementioned Peppers during the scouting process. In 2002, the Houston Texans selected David Carr with the first overall pick prior to their inaugural season. Who went #2 overall in the 2002 draft you ask? The Carolina Panthers drafted a lazy defensive lineman who "takes plays off" named Julius Peppers. How did that one work out?
The Texans are best served building a dominant front line considering they play football in the same division as the future of the quarterback position in Andrew Luck.
The thought of pairing Clowney and J.J. Watt on the same defensive line should prove too tempting for Rick Smith and new defensive coordinator Romeo Crenell. Welcome to every offensive lineman's own personal fear factor every Sunday. The NFL doesn't give many teams second chance to right past mistakes. With no quarterback in the 2014 class worthy of the number one draft pick, it's time to repent from 2002.
The following exchange took place on ESPN's "Sports Center" (Sometime in early March):
Teddy Bruschi: "Let's say the Texans draft you with the number one pick and put your locker next to J.J. Watt's. What are you gonna do then?"
Clowney: "I'm gonna take some notes."
Sharpen your #2 pencil, rookie.
Don't be Surprised if:
Houston trades the pick for a pot of gold and a multitude of draft picks. GM Rick Smith and the rest of the Texans front office remain out of love with any of the top prospects. On March 28th, Dan Pompei wrote the Texans are "trying hard to trade the first pick." Adam Schefter and others reported (4/21) Texans Smith prefers Buffalo's Khalil Mack over Clowney. The team's owner Bob McNair raved about Clowney in January. Bill O'Brien loves Johnny Manziel's competitiveness and Blake Bortles' poise in big games. TRANSLATION: They don't love any of these guys at the number one spot, and they hope someone else does.
2. ST. LOUIS RAMS
JAKE MATTHEWS
LT Texas A&M
Jeff Fisher coached Bruce Matthews, Jake's Hall of Fame father, and said the former A&M offensive lineman "possesses similar traits." The Rams desperately need to fill guard and center holes on the offensive line and scouts believe Matthews could be an All-Pro at either position. Tremendous in pass protection, Matthews is the most versatile and technically sound offensive lineman in this draft. Greg Robinson has more more raw upside at the next level and is the number one overall offensive lineman on almost every scout's big board. I love the powerful run blocker as much as anyone, but St. Louis may value Matthews more. Jim Thomas of the St. Louis dispatched reported earlier this month he believes the Rams will draft Jake Matthews with the 2nd overall pick. I agree.
Don't Be Surprised If: The Rams can't pass on Sammy Watkins. He's the most NFL ready player in this draft and will instantly bolster any team's aerial attack. Sam Bradford's days as a Ram may be numbered but an investment in Watkins would make any quarterback break out into this
little number
. The team selected two receivers in each of the last three drafts and one in the 1st round last year(Tavon Austin), and I don't see the Rams front office expending any more picks on the position. But Les Snead could very well channel his inner Matt Millen and pull the trigger on the speedster from Clemson.
3. JACKSONVILLE JAGUARS
JOHNNY MANZIEL
QB, Texas A&M
Remember when the Texans passed on a beloved Houston legend named Vince Young, only to watch Bud Adams' franchise select him with the 2nd overall pick? UT fans in Houston fans jumped on the Titans bandwagon faster than you can say Hook Em. Expect similar results when the Jaguars draft Johnny Manziel from the massive amounts of A&M fans living in Houston. Here are Manziel's thoughts regarding the Texans passing on him:
"It would be the worst decision they've ever made," he said. "I'd be in the same division playing against them twice a year. Sorry, but you just turned that chip on my shoulder from a Frito into a Dorito."
I hope Johnny loves Cool Ranch. But I see him as more of a Nacho Cheese guy for some reason. History has a habit of repeating itself.
Don't Be Surprised If:
Sammy Watkins goes at this pick to Jacksonville or through a trade to Detroit or San Francisco.
4. CLEVELAND BROWNS
SAMMY WATKINS
WR Clemson
Cleveland has busted on almost every first round pick since 1999.
I'm not even mad, that's amazing.
BUST LIST
However with a new competent and hungry GM in Ray Farmer, everything's about to change. The Browns are desperate for a long term solution at QB, but Watkins is far and away the best available talent left on the board. Josh Gordon emerged as one of the best wideouts in the league last season and drafting Watkins only makes its more difficult for opposing secondaries. The Browns are rolling deep in draft picks and own the luxury of being able to take a quarterback with their second pick in the first round or early 2nd.
Don't Be Surprised If:
Kevin Costner steals the show. I MEAN DID YOU GUYS SEE DRAFT DAY!!? Real Oscar stuff (I really hope we get a sequel directed by Michael Bay starring Nick Cage). If Jacksonville passes on Manziel, anticipate the Heisman winner to bring Drake and the rest of the Young Money fam along with him to Ohio. And then it's really
fun times in Cleveland.
5. OAKLAND RAIDERS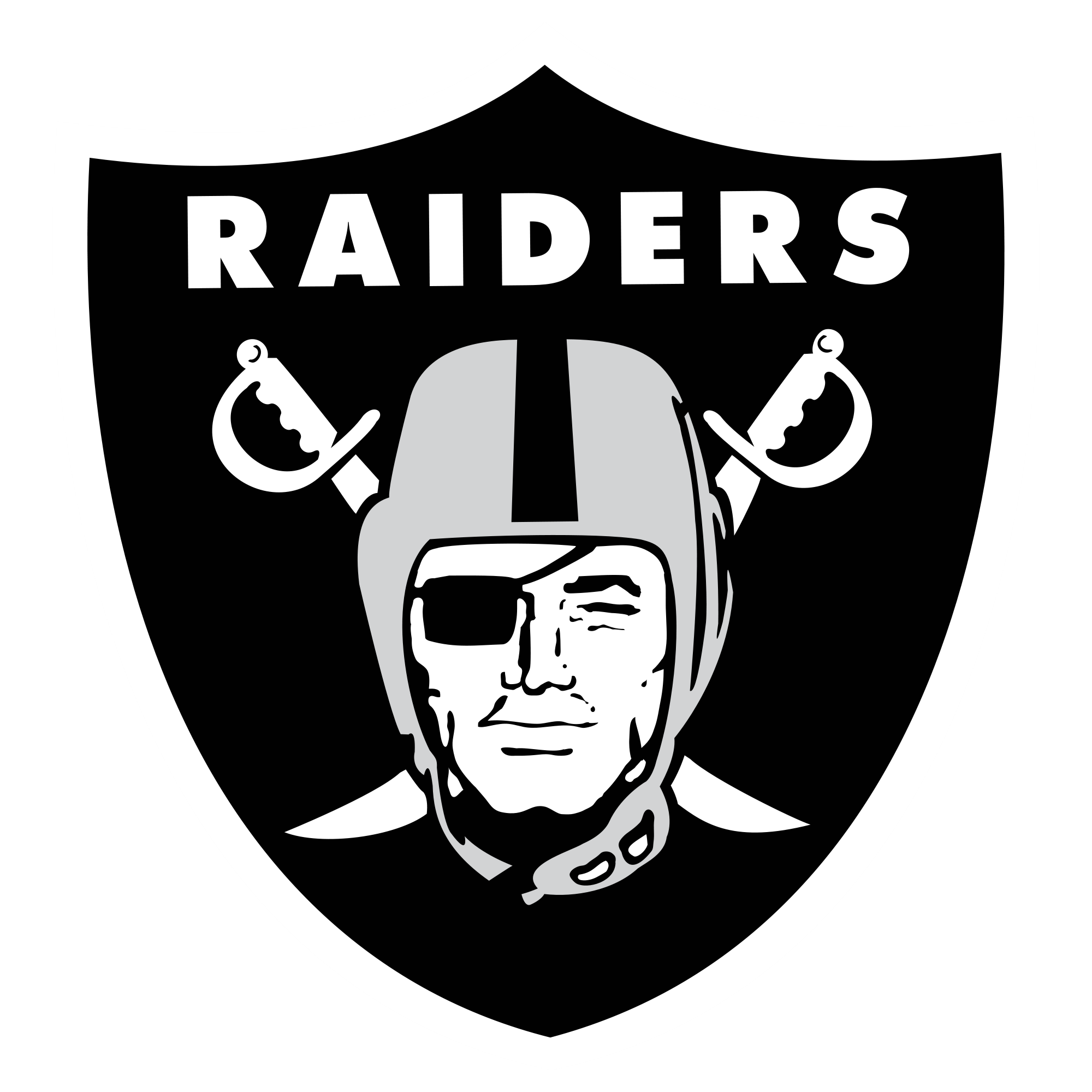 Full disclosure: Mike Evans is my favorite player in this year's draft based on perceived value and projected draft spot. On tape he jumps out as a hybrid of Jimmy Graham and Vincent Jackson. At 6'5 225, Evans stretches the field with exceptional speed for his size(4.57 40 yd). The A&M standout runs the go route like Jackson and is also unafraid to run across the middle, elevate above defensive backs, and create yards after contact in similar fashion to Graham. The combine only furthered demonstrated Evan's monster upside to the world. Don't look now, but Oakland's offense may actually be formidable in 2014. Both Maurice Jones-Drew and Matt Schaub are past their primes but very well could have one last ride in them. Add Evans to the mix and the Raiders may become nationally relevant and fly onto your fantasy football radar. And for you annoying Aggies at home keeping score, that's three of your boys in the top 5 of the 2014 NFL draft. Congrats and Gig em.


Don't Be Surprised If:
Blake Bortles comes off the board here. Matt Schaub is not a long term option at quarterback, and Oakland is surely looking for a future gunslinger in this draft. Bortles raw ability and need for polishing makes Oakland's situation ideal.
6. ATLANTA FALCONS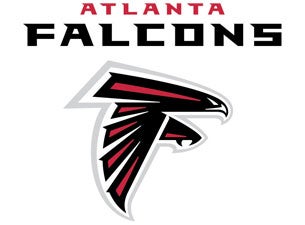 RUN, don't walk to the podium. Khalil Mack remains on this draft's best prospects and directly fills a need at pass rusher for the falcons' defense.
Don't be surprised if: The Falcons trade up for either Mack or Clowney. Their biggest team need is pass rusher, which is this class' greatest strength. Born and raised in the ATL, Clowney told the media he hopes his childhood team trades up and grabs him before it's too late.
7. TAMPA BAY BUCCANEERS
Scouts salivated over the size and athletic ability of Greg Robinson during April's NFL Combine. I'm talking jaws wide open and some seriously uncomfortable lingering. The Auburn offensive tackle instantly went from a relatively unknown offensive lineman in the mainstream media to folk legend in one day. Dominant as a run blocker, Robinson plowed over defensive lineman and linebackers and created huge running lanes for Heisman candidate Tre Mason last season. Lance Zierlein, a Houston Sports personality and son of former NFL Offensive line coach Larry Zierlein, covers the position extensively and believes Robinson is one of the best talents he's ever evaluated. Tampa Bay needs help in a lot of spots and Robinson instantly improves their run game. If he develops as a pass protector, he could very well develop into All Pro on Sundays.
Robinson is selected way before the seventh overall selection. Most scouts believe Robinson comes off the board in the top 5 and his talent more than justifies that belief. St. Louis, Jacksonville, and Houston (trading back into the draft) all very likely candidates.
8. MINNESOTA VIKINGS
BLAKE BORTLES
QB Central Florida
No team desperately needs a signal caller more than Minnesota. The Vikings offense regularly sees 8-9-sometimes even 10 man defensive fronts to counter Adrian Peterson and simply put they cannot put the ball in the air successfully. Last season their passing attack was ATROCIOUS. I mean my goodness, even Josh Freeman got a start under center last season. Peterson rushed for over 2000 yards in 2012 but last year his output fell by almost 800 yards largely in part due to defensive coordinators stacking the box. Bortles displays many traits scouts look for but is still raw and needs 1-2 years to sit on the sidelines and learn. Matt Cassell played decently last season and should provide a nice stop gap for the team. Get AP a quarterback and some hope for the future. He deserves it.
Don't be surprised if:
Houston trades down to Atlanta's selection and drafts the Bortles at #6. I covered extensively why I believe Houston may love the QB
here
. If I'm forced to bet on any of this year's crop of quarterbacks having long term sustainable success at the next level, my money is on Blake.
This entire video displays Bortles tremendous cerebral capabilities, but just do yourselves a favor and skip to 3:32.
9. BUFFALO BILLS
TYLER LEWAN
OT Michigan Tyler Lewan is a bad, bad man. Some would even say NASTY.

He grabs

face masks

like they're going out of style.
(3/26/14) Michigan's Taylor Lewan to be charged with three misdemeanors...Michigan senior OT Taylor Lewan will be charged with three misdemeanors following an altercation last December in Ann Arbor, according to court records (first reported by The Ann Arbor News). He is scheduled to be arraigned on April 8 on one count of aggravated assault and two counts of assault or assault and battery. The incident occurred outside an Ann Arbor bar at 12:30 a.m. on Dec. 1 when two Ohio State fans claimed an unprovoked Lewan punched and attacked them only hours after Ohio State defeated Michigan. Bucknuts, an Ohio State insider website, first reported the story on Dec. 23. When asked about the altercation at the NFL Combine, Lewan downplayed the events. "I wasn't in any fight," Lewan said. "I was actually breaking something up. Some guy said I slugged him." Detective Lt. Robert Pfannes confirmed that Lewan was the only person facing charges from that specific incident.
- Dane Brugler, NFLDraftScout.com
You be the judge, but this guy's character is questionable from an outsider's perspective. NFL executives reportedly dismissed the charges as a "non issue", but I'm more skeptical. Either way he's a very talented left tackle that should be able to start from day 1. So talented that Buffalo grabs him here and gives even more help to CJ Spiller, Fred Jackson, and an already potent rushing attack.
10. DETROIT LIONS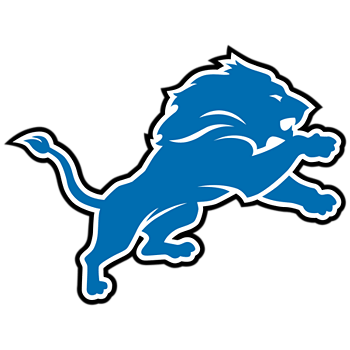 ANTHONY BARR
OLB UCLA
The Lions need an OLB. Barr is the best player available. You do the math.
Don't be surprised if:
Detroit grabs Eric Ebron or Odell Beckham Jr. Even though the Lions inked Golden Tate in the offseason, they are still in the market to add offensive weapons to take attention away from Calvin Johnson.
11. TENNESSEE TITANS
DB Oklahoma State University
Alterraun Verner left Tennessee during the free agency period, leaving a huge hole in the team's secondary. Lucky for Tennessee, the 2014 class' strongest position outside of wider receiver I believe is defensive back. Some guys are fast, but Gilbert can flat out fly. Not only is JG exceptional in coverage but also will add an extra dimension on special teams for the Titans as a punt/kick returner. The Titans struggled in the third phase of the game last season and head coach Mike Munchak fired special teams coach Alan Lowry in January. Time to put a band aid on the defense and the return game.
Don't be surprised if:
The Titans draft a defensive back not named Gilbert. This draft boasts a lot of talented dude and the overall separation between Dennard, Roby, and Gilbert is minimal, if at all.
12. NEW YORK GIANTS
AARON DONALD
DT Pittsburgh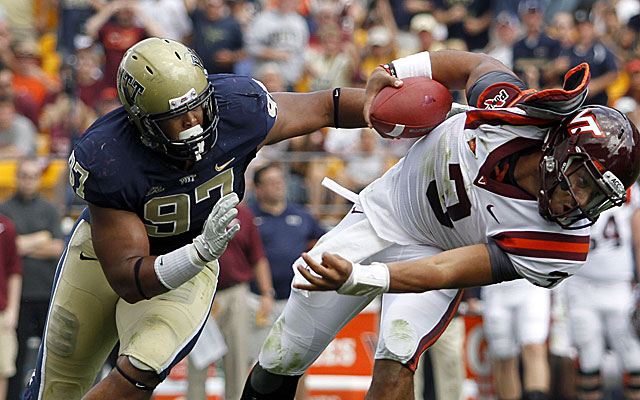 A true force in the middle, Donald dominates the line of scrimmage and makes the backfield his place of residence. Quarterbacks are his front porch(where he sits), and running backs are his bed (where he lies). He quietly led the NCAA in sacks (1.6) and tackles for loss (2.4) per game at Pitt. Donald above all of his defensive line counterparts produced at an elite level on Saturdays and I believe could very well be a productive player on Sundays. Despite concerns of short stature(6' feet tall), Donald quieted many skeptics and tested extremely well at the combine showing surprising speed (4.68 40 yd) to go along with his power and explosiveness. I love guys who just play football the way it's meant to be played. Donald leaves it all on the field and consider me in his corner. And the New York Giants as well.
Don't be surprised if:
The G-Men consider Beckham Jr. They could use a wideout to replace Hakeem Nicks who signed with the Colts in the offseason, and the former LSU tiger is a tempting option.
13. ST LOUIS RAMS
CALVIN PRYOR
S Louisville
Here's where I get bold. Pryor seems to be in every scout's top 20, but most don't believe he'll go this early. A short compact safety in the physical mold of Bob Sanders, Pryor lights up opposing receivers and lowers the boom across the middle. St. Louis will be looking to improve their secondary with their second pick of the 1st, and Pryor may be their man.
Don't be surprised if: Clinton Dix goes here. Both are the 1 and 2 safeties of this draft. It just depends which guy is higher on their big board.
14. CHICAGO BEARS
HA HA CLINTON DIX
S Alabama
HAHAHAHAHAHAHAH. That was me laughing at this guy's first name. But wide receivers aren't laughing at him. And neither are the Bears.
Don't be surprised if:
The Bears look at Timmy Jernigan or Aaron Donald (if available). After losing Henry Melton to FA, the team will address defensive line depth in either the first round or days 2 and 3.
15. PITTSBURGH STEELERS
DARQUEZE DENNARD
CB Michigan State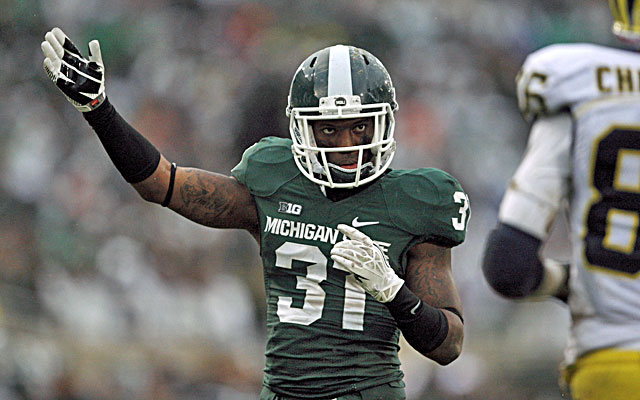 Mel aka "DA HAIR" aka "DA HYPERBOLE" aka "I've never used an ATM" Kiper believes Dennard plays like a "Steeler". I'm not sure what that exactly means, but the kid can straight BALL. Darqueze (which is coincidentally what I want to name my son now) demonstrates outstanding ball skills in coverage but also comes up to the line of scrimmage and stick receivers. Physical, fast, and an outstanding play maker, Dennard is my favorite DB from the 2014 class. Don't believe me, just roll the tape.
Don't be surprised if:
The Steelers select Odell Beckham Jr. Pittsburgh has stated they need a wide receiver and there is growing speculation that Beckham Jr. is rising up many teams' draft boards. Darqueze is too talented to pass up in my opinion, but I would not be shocked to see a WR drafted at 15.
16. DALLAS COWBOYS
TIMMY JERNINGAN
DT Florida State
I readily admit anything any projection I make regarding this pick is more than likely useless. Jerry Jones is less predictable than Miley Cyrus' weekly behavior. The Cowboys ran through defensive lineman last year as a result of injuries and slightly addressed the issue by signing Henry Melton in the off season. However, Melton is coming off an ACL injury so the team may look to add further depth. They might draft Jernigan in this spot, who is the best available defensive lineman and a guy I really like. He only started one full season at FSU but plays like a man possessed and helped lead the Seminoles defense to a National Championship. But then again, they probably won't. Who knows. It's the Dallas Cowboys.
Don't be surprised if:
Jerry Jones
behaves
like Jerry Jones. And does something that makes all of America shake their heads.
17. BALTIMORE RAVENS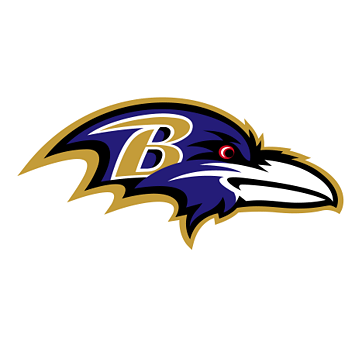 ODELL BECKHAM JR.
WR LSU
Baltimore never truly replaced Anquan Boldin after their miraculous run where the won the Super Bowl in 2012. The big bodied receiver came up with big catch after big catch in seemingly every crucial moment and was a powerful leadership presence on and off the field for the franchise. Talk about big shoes to fill, but Beckham Jr. has the ability. Although he's only 5 11' he plays so much bigger with raw physicality. Using his tremendous hands and a crazy vertical that allows him to snag on defensive backs, Jr. provides any team with a punt return and wide receiver threat. He's a game breaker.
Don't be surprised if:
Beckham Jr. doesn't last this far. On the basis of talent and upside, he shouldn't.
18. NEW YORK JETS

ERIC EBRON
TE North Carolina
19. MIAMI DOLPHINS
ZACH MARTIN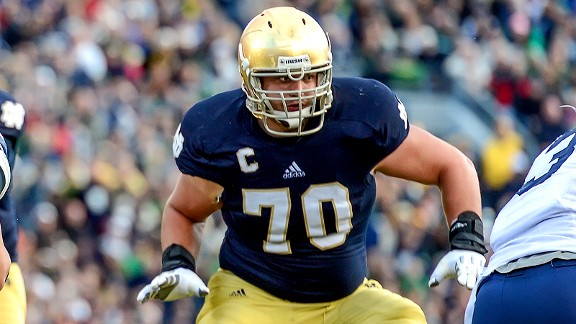 Zach Martin could be the most underrated offensive line prospect in this year's class. He played OT masterfully at Notre Dame, shined at the Senior Bowl, performed well at the combine. Yet the majority of media attention falls squarely squarely on Matthews and Robinson. The Dolphins suffered one of the worst media fall outs in NFL history last season after the Johnathan Martin-Richie Ignito scandal. Martin played the role of captain at Notre Dame is considered a high character prospect. Seems like an appropriate change for a group of guys who used to hold their meetings at strip clubs. Extremely versatile, Martin can play left and right tackle as well as both guard positions.
Martin's tape against Stanford last season. Only missed maybe one-two protections and completely shut down Trent Murphy, second round projected talent and a very good football player. Maintained his run blocks and successfully got on LBs in the second level almost every run play. Impressive stuff.
20. ARIZONA CARDINALS
DEREK CARR
QB Fresno State
At age 34, Carson Palmer isn't getting any younger. Bruce Arians is looking for a young, big armed quarterback to run his vertical down-field passing attack. No one boasts a stronger arm in this year's quarterback class than Derek Carr. Scouts are slowly falling in the love with the brother of David Carr, the former first overall pick of the Houston Texans. Peter King reported the Cardinals are
"sweet"
on Derek Carr and McCarron. If they want to grab Carr, they better do it here or he'll more than likely miss their opportunity as he's projected to go early or middle of round 2 to either Houston, Cleveland, Oakland, or other potential suitors.
Don't be surprised if:
The Cardinals pass on a quarterback in the 1st and wait for McCarron in the 2nd-3rd.
21. GREEN BAY PACKERS
.
CJ MOSLEY
ILB Alabama
Talk about a discount. Hip and knee injuries are causing a once projected top 10 pick in CJ Mosley to be available in the latter half of the 1st. Whether are not the concern are valid depends entirely upon the competency of each team's medical staff. Mosley played with passion and determination in Birmingham, winning the hearts of Crimson Tide nation. Mosley's great at covering wide receivers across the middle of the field in pass coverage and this should suit him well in today's modern NFL. More and more ILBs are called to play zone coverage to counter slot receivers in the spread attack and fortunately CJ excels there. Sometimes great football players wrongly fall in the draft and land in your lap. The Packers could use defensive help and some depth at the linebacker position. Mosley is a value play for Green Bay at 21.
Don't be surprised if:
Green Bay grabs OLB Ryan Shazier if Mosley doesn't fall to 21.
22. PHILADELPHIA EAGLES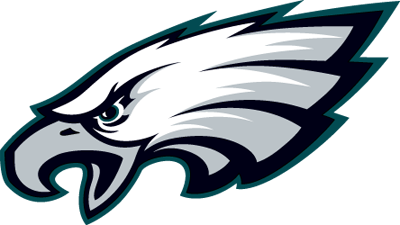 I hate gushing over players. Who am I kidding, I love it. And maybe more than any other player in this year's draft, Brandin Cooks looks the part of a play maker. Put him in Chip Kelly's wide open, up tempo spread offense and watch out for some yards after the catch. Cooks ran a 4.33 40 yd (not slow) and may actually be faster in game situations with the lights on and pads strapped. Great at catching in space and in crowds, Cooks does not shy away from contact despite his minute frame. He's good at getting to the corner, returning kicks and punts, and running reverses to keep defenses honest. More play makers in today's modern NFL are small in stature but large in ability (Welker, Austin Woodhead, Sproles). Cooks fits a similar bill as as slot receiver. From a fantasy perspective, Cooks should be a guy with the right situation you may be able to take a flyer on in the later rounds. If Cooks does land in Philadelphia, don't expect them to miss Desean Jackson very much next season.
The Eagles address the wide receiver position differently. Marquise Lee is bigger and arguably a better NFL prospect. Chip Kelly could want more of a possession receiver on the outside for Foles. But I doubt it. They need speed to stretch the field.
23. KANSAS CITY CHIEFS
MARQUISE LEE
WR USC
I'm rooting for Marquise Lee. Raised by a deaf father and growing up in the projects of Baldwin Village near USC's campus, Lee narrowly escaped the horrors of gang and drug violence. His story, like many professional athletes, is one of narrow escape and a triumph of the human spirit. For more
READ HERE
Malcom Gladwell's book David and Goliath tells readers how many prominent figures in society rose to greatness not only because of their skills but due to adversity that required the individuals to rise up and overcome their deficiencies. Once a top 5 projected pick, injuries and a less than stellar 2013 season caused Lee to fall down many team's big boards. That's just more adversity to fuel the fire. Expect big things from Lee on Sundays.
24. CINCINNATI BENGALS
RYAN SHAZIER
LB Ohio State
25. SAN DIEGO CHARGERS
BRADLEY ROBY
CB OSU
26. CLEVELAND BROWNS
TEDDY BRIDGEWATER
QB Louisville
No one disappointed scouts more this off season than Teddy Bridgewater. He looked terrible at his own pro day(How does that even happen?) and did not further his own cause at the combine. If you put any stock into Gruden's QB camp(If you do, you might want to ponder your life choices.) he was very impressive regarding his offensive IQ and understanding of pro style schemes. He needs work on his accuracy and body but he's worth a pick here for the QB starving Browns.
27. NEW ORLEANS SAINTS
KONY EALY
DE Missouri
28. CAROLINA PANTHERS
ALLEN ROBINSON
WR Penn State
Robinson remains the best WR available and CAR has to be looking to provide more outside weapons for Cam Newton. Dude has no one to throw to right now. Extremely strong off the line of scrimmage and an exceptional route runner, Robinson's game is NFL ready.
29.
NEW ENGLAND PATRIOTS
RASHEDE HAGEMAN
DT Minnesota
30. SAN FRANCISCO 49ERS
Same situation as Carolina, except not quite as dire. WR needed. Matthews best available talent left.
Don't be surprised if:
The 49ers are reportedly looking to make a "big move" in the 2014 NFL draft according to ESPN's Chris Mortensen. I could easily see them trading into the top 10 to select either Mike Evans or Odell Beckham Jr, two higher quality WR prospects. Don't leave your television sets because San Fran is surely going to make Thursday night very entertaining
31. DENVER BRONCOS
Anyone who watched Denver last season will tell you the 2013 team didn't have a lot of weaknesses. Peyton Manning led perhaps the greatest offense of all time and achieved the greatest statistical output for a quarterback in NFL history. A receiving core comprised of Demaryius Thomas, Eric Decker, and Wes Welker along with the emergence of former basketball player Julius Thomas at TE made the Bronco aerial attack virtually unstoppable. Despite the offensive fortitude, Denver time and time again let teams hang out due to poor play in the secondary.The Broncos are going for a title NOW as they signed Aquib Talib, Emmanuel Sanders, and Demarcus Ware to fill holes on offense and defense. Verrett provides a shot of youth to a defense that started Champ Bailey (35 years old) last season. With Talib and Verrett in the back end of the defense, it's going to be extremely difficult for opponents to keep up on the scoreboard in 2014.
32. SEATTLE SEAHAWKS
KELVIN BENJAMIN
WR Florida State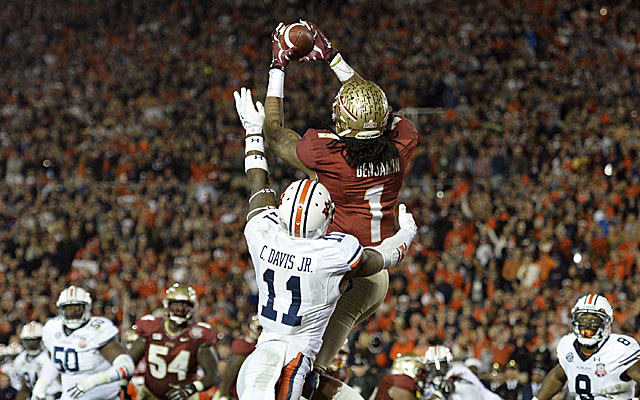 Remember that really tall receiver with dreads that Jameis Winston always threw to all of last season?
BREAKING: The Seahawks LIKE drafting players with dreads. And guys that are really, freakishly athletic. Benjamin lacks speed and acceleration compared to his counterparts in the 1st round, but more than makes up for it with all world size (6'6) and leaping ability (33 inch vert) and a wingspan the same as Jadaveon Clowney's (83 inches). Some scouts see Benjamin moving to TE and making an even bigger impact at the next level. Regardless, Pete Carroll and the rest of the Seahawks staff will do a stand up job as usual of drafting talent and molding their selected player into their system. Benjamin provides an instant red zone threat for the Hawks and more receiver depth to counter the loss of Golden Tate. The rich get richer.